The summer is fading fast. Leaves changing, the air turning colder, early sunsets. With fall and winter creeping in, our first instinct is to cozy up next to the fireplace and hibernate in a cocoon of fuzzy blankets, cups of hot tea (or a pumpkin spice latte) and dark hues of reds, golds and browns until spring peeks back around the corner.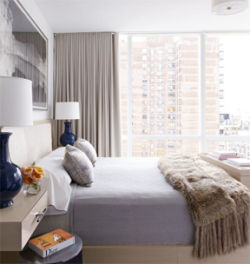 But, as Lindsey DeSimone of Elle Décor notes, "pastels and fun prints shouldn't be relegated to warm-weather months. Colorful hues have staying power in fashion and in home decor alike."
Try different shades and palettes of pinks, purples and greens with seasonal accessories to keep your home bright and colourful during the dull winter months. Even rooms with neutral and black tones matched with bold colourful prints can keep your home décor interesting year round.