Framing the Past with the Future
By Richard Forzley
Kerrisdale, in the heart of Vancouver, takes up the southwestern section of the city, sloping down to the Fraser River. Largely a residential area with many long-time residents occupying its mix of newer houses and older bungalows, the neighbourhood proudly boasts of its sweeping, grand old trees lining the streets and a vibrant mix of young families and a well-established business community. Today it offers an array of shops, eateries and services in the shopping district known as Kerrisdale Village that rivals those of any bustling metropolis. But Kerrisdale has not lost its quaint village charm and welcoming spirit that's as warm-hearted as a Norman Rockwell postcard.
At its founding in the early 20th century, Kerrisdale was originally named "Kerry's Dale", after Kerrydale in Gairlock, Scotland, and means "little seat of the fairies". It was quickly corrupted to Kerrisdale and remains today a culturally diverse,
charming Vancouver neighbourhood. Anyone who has been to the village of Kerrisdale is immediately transported to another time. Many of the shops and businesses are hip and trendy but the ambience of the area is one of refined elegance and features one of the city's best beautification programs. Gorgeous terra cotta pots showcase seasonal displays while classic lamp standards exhibit creatively designed banners, lights and swags depending on the season.
Graeme McKenney, owner of Framing and Art located at 2033 West 41st, was born and raised in Kerrisdale and is proud of his long-standing history with the neighbourhood. After graduating from Magee Secondary, he went on to college where he earned a sales and marketing certificate. "I have spent my life in Kerrisdale and remember it as a great area to grow up," says Graeme. "With its strong family values, it was the perfect place to raise my own family. It's safe. I know my neighbours. And everyone looks out for each other."
Married for 44 years to his wife Janet, who grew up in West Vancouver, they love the close ties they have developed within the community and its proximity to virtually everything, including the excitement of downtown Vancouver. "We live in a townhouse complex of only 21 units, mostly seniors, and we really enjoy the friendly and caring neighbours we have. Every year someone in the complex hosts at least one big party and there are many spontaneous gatherings around the pool during the summer."
Forty years ago, he opened his own framing business in an older building on West Boulevard and 45th. "After all those years, we finally decided to move this past January to a more prominent location in the heart of Kerrisdale Village. I'm thrilled with our new shop since we're in a much busier area and very accessible to our clients, both old and new."
He shares the new storefront with his younger daughter Victoria, an interior designer who runs her own business, Enviable Designs, out of the same location. "It's wonderful having my daughter and Beet, her seven-year old Boston terrier, in the store. We all enjoy meeting the new people who drop into the shop to say hello as well as showing off our space to former clients who have followed us to this location."
Vancouver is a successful mix of people from many different places and cultures, and Graeme comments that "they often share their stories with us. The interactions I have with them are what drives me in my business. I enjoy meeting new people, helping them make framing choices that ultimately complement their homes and making new friends along the way."
Between the demands of running his own business and maintaining an active family life, his free time is very limited. "My daughters Katherine and Victoria are both married and I spend as much time as I can with them and Katherine's children, four- year old Emma and one-year old Sophie. Besides that, my wife and I manage to spend a couple of nights a week ballroom dancing, one of our favourite hobbies since it gives us an opportunity to spend a little personal time together. Dancing, I find, keeps my mind sharp and my body healthy. Most of all, it's enormous fun."
Sadly, vacations are at a premium. "We occasionally take short vacations and just got back from a few days in Palm Springs. Occasionally we might even manage a cruise. But, for the most part, life is about family and business."
As for the future, he has great hopes for the success of his new store. "I want people in the neighbourhood to drop by to see what we have to offer. Or at least come in to say hello." Somehow Kerrisdale has managed to maintain the values of a small town even as the world around it changes at lightening speed. Graeme hopes that anyone walking by the new store drops in for a friendly hello. In the heart of Kerrisdale, where old meets new, anything is possible.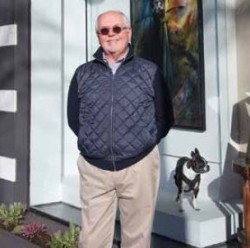 Photo by Sarah Virag Photography